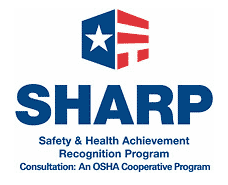 The Safety and Health Achievement Recognition Program (SHARP) is designed to provide incentives and support to employers to develop, implement and continuously improve effective safety and health programs at their worksite.
SHARP provides recognition for employers who demonstrate exemplary achievements in workplace safety and health. These companies are exempted from a general scheduled Federal OSHA inspection for one to two years.
How Can My Company Participate In SHARP?
To participate in SHARP, you must:
Request a consultation visit that involves a complete hazard identification survey;
Involve employees in the consultation process;
Correct all hazards identified by the consultant;
Implement and maintain a safety and health management system that, at a minimum, addresses OSHA's 1989 Safety and Health Program Management Guidelines;
Lower your company's Lost-Workday Injury and Illness rate (LWDII) and Total Recordable Case Rate (TRCR) below the national average; and

OSHA Outreach Training 10hr/30hr
The OSHA Outreach online training course is the primary method for instructing construction workers in the basics of occupational safety and health and preparing them for the hazards of accidents and injuries on the jobsite that can be preventable. Training fullfills OSHA standards as required OSHA 29 CFR 1926 – Construction. OSHA Accepted Provider. 10hr only $79 – 30hr $169.