In the United States, the most recent decade was warmer than any previous decade on record. [1]  Seventeen of the 18 hottest years on record have occurred since 2001 and 2017 , was the second hottest year on record, surpassed only by 2016. [2] [3]
From 1992 to 2016 in the U.S., heat killed 783 workers and seriously injured nearly 70,000, according to Public Citizen's new report: Extreme Heat and Unprotected Workers.
The consumer advocacy group Public Citizen, along with United Farm Workers Foundation and Farmworker Justice, joined more than 130 public health and environmental groups in submitting a petition to OSHA calling for the agency to require employers to protect their workers from heat by imposing mandatory rest breaks, hydration and access to shade or cooled spaces, among other measures.
Workers who are exposed to extreme heat, or even those engaged in strenuous physical activities, may be at risk for heat stress. Occupational exposure to heat can result in injuries, disease, reduced productivity, and death.
As global warming continues, extreme heat is expected to become more common, and the plight of outdoor workers will get more extreme along with the weather, making stronger standards more critical.
Dangerous Heat Defined
The National Weather Service deems a heat index level of above 104 degrees "dangerous". Under these conditions, "sunstroke, muscle cramps, and/or heat exhaustion " is likely , and heatstroke is " possible with prolonged exposure and/or physical activity". [4]
Those at risk of heat stress include outdoor workers and workers in hot environments, such as fire fighters, bakery workers, farmers, construction workers, miners (particularly surface miners), boiler room workers, and factory workers.
Why is it important to prevent heat illness?
Heat illness can be a matter of life and death. Workers die from heat stroke every summer and every death is preventable.
ƒWhen heat stroke doesn't kill immediately, it can shut down major body organs causing acute heart, liver, kidney and muscle damage, nervous system problems, and blood disorders.
ƒHaving a serious injury or death occur at work affects everyone at a worksite.
ƒWorkers suffering from heat exhaustion are at greater risk for accidents, since they are less alert and can be confused.

OSHA 10hr/30hr Outreach Training : 15% OFF SALE
Know Your Rights! Under federal law, you are entitled to a safe workplace.
Training provides details on OSHA, workplace hazards, workers' legal rights, employer responsibilities, and how to file a complaint. Required by some states and companies in order to start employment.
DOL Plastic Card Shipped Within 2 Weeks
Reg. Price: 10hr: $89 - 30hr: $189
Enter Promo Code "osha15off" at Checkout
Heat Stress Training Program
A heat stress training program should be in place for all who work in hot environments and their supervisors. Workers and supervisors should be trained about the prevention and first aid of heat-related illness before they begin work in a hot environment and before heat index levels go up.
Exposure to extreme heat can result in occupational illnesses caused by heat stress, including heat stroke, heat exhaustion, heat syncope, heat cramps, heat rashes, or death. Heat can also increase workers' risk of injuries, as it may result in sweaty palms, fogged-up safety glasses, dizziness, and may reduce brain function responsible for reasoning ability, creating additional hazards.
Heat prevention training should be reinforced on hot days. Prevention of heat-related illnesses depends on early recognition of the signs and symptoms of impending heat-related illness and initiation of first aid and corrective procedures at the earliest possible moment.
A good Heat Stress Prevention Training Program should include the following basics:
Health Effects of Heat
How to Respond to Symptoms
Preventing Heat Exhaustion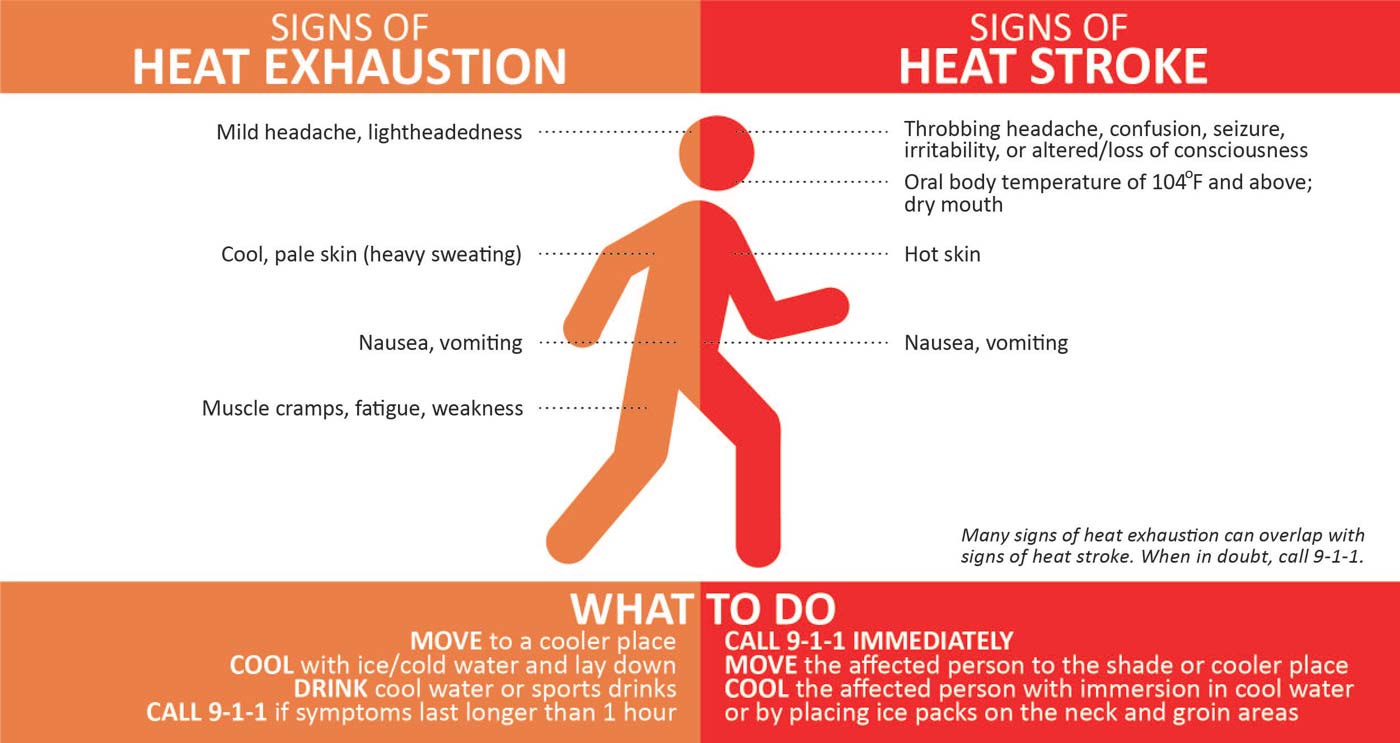 OSHA Heat Illness Prevention Training Guide
A guide for employers to carry out heat safety training, with lesson plans (tailgate or toolbox talks).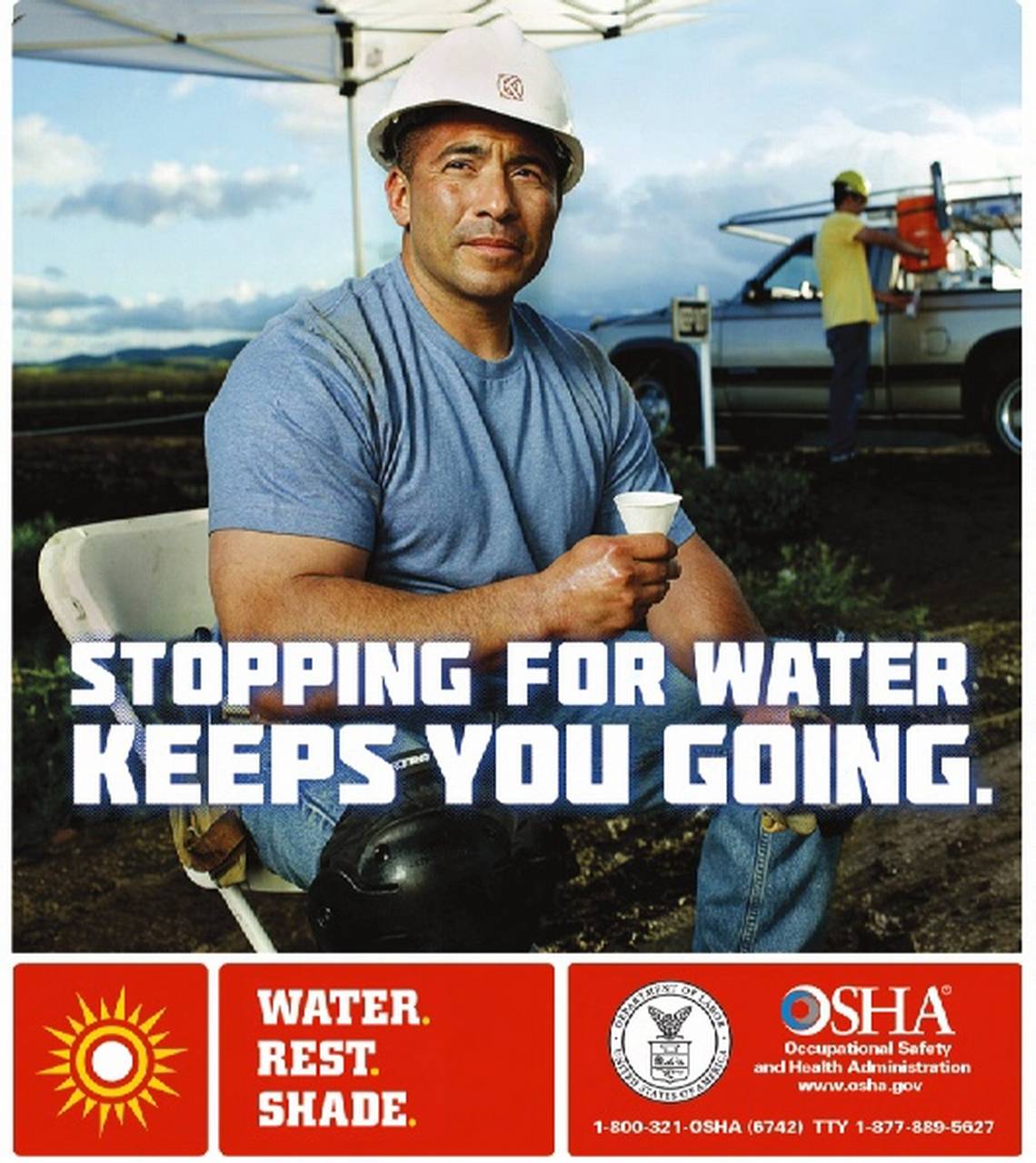 Supervisors and Workers are Both Responsible for Heat Safety Awareness
Supervisors: Preventing heat-related illness in your workers requires a commitment to monitoring daily temperatures, continual awareness of workers' level of effort, and heat-illness prevention training.
Workers: Learn to recognize signs that you or your coworkers need to cool down. Be ready to seek help if you or your coworkers are disoriented, confused, or slurring speech.
Additional Heat Safety Resources
When it gets hot, be ready to respond. Additional resources are available.
References
Jerry M. Melillo, Terese (T.C.) Richmond, and Gary W. Yohe, Eds., Climate Change Impacts in the United States: The Third National Climate Assessment. U.S. G LOBAL C HANGE R ESEARCH P ROGRAM (May 2014), http://bit.ly/2JgXCV1 and Observed U.S. Temperature Change, Figure 2.7 , U.S. G LO BAL C HANGE R ESEARCH P ROGRAM (Aug. 3, 2113), http://bit.ly/2LbVlL1 .
Henry Fountain, Jugal K. Patel and Nadja Popovich , 2017 Was One of the Hottest Years on Record. And That Was Without El Niño , T HE N EW Y ORK T IMES (Jan. 18, 2018), https://nyti.ms/2uneZJM .
It's Official: 2017 Was the Second Hottest Year on Record . Y ALE E NVIRONMENT 360 (Jan. 4, 2018), http://bit.ly/2KSx6lM
Heat Index, National Weather Service (viewed on July 13, 2018), https://www.weather.gov/safety/heat – index